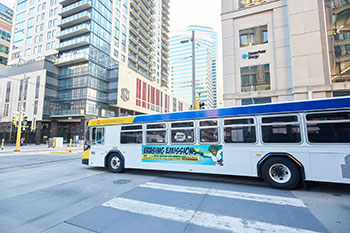 The Minnesota Soybean Research & Promotion Council (MSR&PC) has launched a new superhero-themed marketing campaign and website to promote the environmental benefits of biodiesel.
In addition to a website complete with comic-book-style graphics, the campaign features billboard ads running on 46 Metro Transit buses. The timing works out nicely, as the state recently approved a measure to add 143 new biodiesel-fueled buses to the Metro Transit fleet.
In 2002, Minnesota became the first state in the nation to require all diesel fuel sold in state to contain biodiesel. The requirement began in 2005 at 2 percent biodiesel (B2) then increased to B5 in 2009 and B10 in 2014. In 2018, a new law went into effect, making B20 the minimum blend level from April 15 to September 30 (B5 remains standard for the winter months, and there's a two-week B10 interim in the spring).
The campaign highlights the emission reductions made possible by biodiesel since that first law was enacted nearly 20 years ago. According to the campaign website, biodiesel removed 1.2 million tons of CO2 from the air in 2020, the equivalent annual emissions from 246,000 vehicles.
"With the ongoing debate around 'Clean Cars' and electric vehicles, we know that biodiesel is a reliable solution to address climate and energy concerns. It's reducing carbon right here, right now," said MSR&PC Senior Director of Product Development & Commercialization Mike Youngerberg, who's also executive director of the Minnesota Biodiesel Council.
That statement echoes sentiments expressed on the East Coast with the Net-Zero Hero™ campaign running in New York City and Long Island. As in Minnesota, this campaign began with bus billboards and an educational website (see "NYSEC & NORA Launch Net-Zero Hero Campaign" from energy.ink issue 1). The New York campaign has also incorporated radio advertising, social media, Google Display advertising, and programmatic ads on websites, apps, games and streaming platforms (see "Net Here Hero Campaign Update" from issue 5).
According to the latest metrics, the Net-Zero Hero campaign has generated:
Over 1.4 million total impressions on Facebook
Over 3.8 million impressions in Google Display advertising
Over 5 million impressions via programmatic advertising
Where the Minnesota campaign calls biodiesel "a Minnesota superhero," the Net-Zero Hero campaign highlights the fuel's everyday, real-world benefits by showcasing the fuel's end users – New Yorkers who heat their homes with biodiesel-blended Bioheat® fuel. While the specific tactics and graphics may differ between the two campaigns, both share a common refrain in messaging focused on "right now" benefits.
The immediate environmental and economic benefits of Bioheat® fuel seem to have resonated not only with New York consumers, but policymakers as well. The state legislature recently approved a bill that will require all heating oil sold throughout the state to contain at least 5 percent biodiesel or renewable diesel by July 1, 2022, 10 percent in 2025 and 20 percent in 2030. New York Governor Andrew Cuomo may sign the bill any time before the end of this year.
---