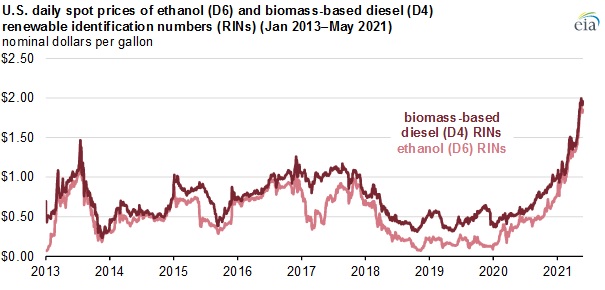 According to the U.S. Energy Information Administration (EIA), on May 18, D6 corn fuel ethanol RIN prices reached $1.90 per gallon, and D4 biomass-based diesel RIN prices reached $2.00. Both prices represented all-time highs since the Renewable Fuel Standard (RFS) program began in 2006.
Prices for D6 and D4 RINs had risen 129 percent and 96 percent, respectively, since the beginning of the year. EIA connected the price increases to rising feedstock costs, noting that corn and soybean oil prices were up 42 percent and 55 percent, respectively, over the same period. The feedstock price increases were attributed to "increased demand from China" and "concerns around future domestic supply."
According to S&P Global Platts, a market-reporting organization that assesses RIN prices more regularly than the federal government, RIN prices continued to break their all-time records into the month of June. Platts reported that D6 RIN prices hit $2.00 on the morning of June 8, before retreating to $1.97 later in the day. The slight pull-back might be attributable to a wait-and-see attitude among some refiners regarding a pending Supreme Court ruling on small refinery exemptions (SREs). That ruling is expected sometime in June or July (see "Supreme Court Hears Case on Renewable Fuel Standard" from issue 6).
"With the coronavirus pandemic pressuring refining margins, some small refineries have elected to put a hold on buying RINs to meet their 2019 and 2020 RFS mandates to try to hold onto cash and given the uncertainty surrounding not only the Supreme Court decision but also the EPA's delay in providing a renewable volume obligation for 2021," Platts writes.
Platts' report has "a refining source familiar with the situation" saying that EPA "has no direction" and is "paralyzed by the small refinery case."
EPA's last public announcement on the RFS — a final rule issued April 1, 2021 — extended the compliance deadlines for 2019 and 2020 renewable volume obligations (RVOs). Compliance documents must be submitted by January 31, 2022, and associated attest engagement by June 1, 2022. The program is essentially running a year behind since the EPA, under the previous administration, failed to issue new RVOs for 2021 and 2022 last year.
---