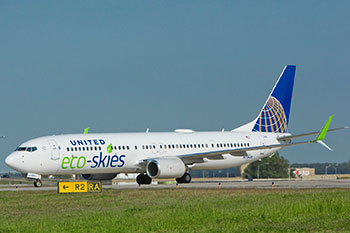 The president of the United States supports tax incentives for sustainable aviation fuel (SAF).
In what is sure to be a positive economic signal for SAF producers, President Biden's first budget proposal recommends the U.S. "provide tax incentives for sustainable aviation fuel" and sets aside a total of $6.636 billion for this purpose over the next 10 years (2022-2031).
The proposed budget was released May 28. Just eight days earlier, SAF had received another federal endorsement when Congressman Brad Schneider introduced the Sustainable Skies Act. If signed into law, this bill would provide producers a tax credit of $1.50 for every gallon of SAF that reduces lifecycle emissions by at least 50 percent compared to conventional jet fuel. The credit would also provide an additional one cent per gallon for each percentage of emission reductions over 50 percent. For example, SAF that reduces emissions by 75 percent would qualify for a tax credit of $1.75 per gallon. The credit would expire after 2031.
A notable difference between the tax credits proposed by Biden and Schneider is that the latter would be open to all SAF producers, not just those in the U.S.
In between the release of the Sustainable Skies Act and the Biden budget, another big SAF story took off, this one from the private sector. On May 25, Shell and American Express Global Business Travel (GBT) announced they were forming an alliance to increase supplies and usage of SAF. The companies' statement noted that while SAF can currently reduce emissions by up to 80 percent, it represents less than 0.1 percent of all jet fuel consumed.
"Even if all publicly announced projects today actually materialize, SAF would still account for just one percent of the jet fuel market by 2030," said Shell Aviation President Anna Mascolo, citing a report by McKinsey & Company. "If the aviation sector wants more SAF by 2025, significant new investments are needed today. This collaboration with GBT aims to create the environment that supports new investment in SAF production and new technologies."
An increasing demand for SAF — whether real or implied — was mentioned several times at this year's Virtual National Biodiesel Conference & Expo, held January 18-21. On the day after the conference, Boeing announced it would transition its airplanes to 100 percent SAF by 2030 (see "Biorefiners Balance Cautious Optimism, Healthy Skepticism" from Issue 4).
Since then, United Airlines has committed to purchase 3.4 million gallons of SAF this year, and the International Airlines Group (IAG) said it would purchase one million tons per year and fuel 10 percent of its flights with SAF by 2030. "Government support is critical to meet this target by attracting investment to construct sustainable aviation fuel plants that will deliver enough supply for the airline industry, creating highly valued green jobs and economic growth at global scale," said IAG Chief Executive Luis Gallego.
That sentiment is shared on this side of the pond as well. The Airlines for America (A4A) trade association, which has a goal of achieving net-zero carbon emissions by 2050, applauded the introduction of the Sustainable Skies Act. "The U.S. airline industry has set an ambitious mid-term goal of making 2 billion gallons of SAF available for U.S. carriers to use in 2030, and supportive measures like the Sustainable Skies Act will enable us to achieve that goal," said A4A President and CEO Nicholas E. Calio.
In more ways than one, the aviation industry may see SAF as a sort of lifeline. Commercial flights and ticket sales have decreased dramatically since the COVID-19 outbreak, yet even before the start of the pandemic, some were asking, "Should we give up flying for the sake of the climate?" To date, over 10,000 people from 59 countries have pledged to be "flight free" over concerns about their carbon footprint.
Ten-thousand people might not sound like all that many in the grand scheme of things, but for 11 days last year that was more than one-tenth of the United States' total daily traveler throughput.
---