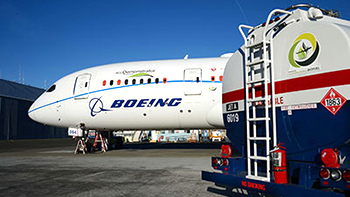 Boeing has announced it will transition its airplanes to 100% sustainable aviation fuels by 2030.
Last month, the National Biodiesel Board presented the Virtual National Biodiesel Conference & Expo, the first ever online version of the organization's annual event. The theme for this year's conference was "RISE," a reference to the biodiesel and renewable diesel industry's rising annual production volumes, as well as the industry's ability to rise to meet the world's most pressing challenges, such as the COVID-19 pandemic, decarbonization and environmental justice. Energy.ink was in attendance for the event, and is presenting our "RISE Recap" series as general commentary based on our independent observations. The views expressed here do not necessarily represent those of the Virtual National Biodiesel Conference & Expo participants, sponsors or organizers.
It's been the talk of the energy industry for several months. Petroleum companies are announcing the opening of new renewable diesel plants and the conversion of petroleum facilities to biorefineries. One question that has been largely avoided by major newspapers' reports on these stories is how the biofuel industry views the announcements.
Do they signify increasing competition, a diminishing market for RIN credits, a combination of the two, or something altogether different, maybe even an olive branch from would-be corporate partners?
The Virtual National Biodiesel Conference & Expo, which attracted presenters and attendees from both the biofuel and petroleum sectors, provided a unique window into this discussion as it moved from beyond the board rooms to a larger industry forum. While some speakers' statements were carefully measured and purposely reserved, others offered more candid takes on the situation.
Several conference participants noted that many of refining companies' renewable diesel plant announcements coincided with quarterly earning statements that were otherwise short on good news for shareholders. Better to tell investors you're converting a plant than closing one, went the reasoning.
Of course, this was not to discount the incredible momentum currently behind biodiesel, renewable diesel and sustainable aviation fuel. The drive toward decarbonization and biomass-based diesel's success in California's Low-Carbon Fuel Standard were already making waves before COVID-19 completely washed out petroleum refiners' bottom lines. Other positive market signals were seen in renewable fuels' court victories over small refinery exemptions and in the carbon-reduction commitments of several major distribution companies.
Amazon's pledge to achieve net-zero carbon by 2040 was mentioned several times throughout the event. Perhaps not coincidentally, on the first full day of the conference (January 22, 2021) Boeing announced it would transition its airplanes to 100% sustainable aviation fuels by 2030. Though biofuel industry stakeholders welcomed the announcement, they also weren't altogether surprised. After all, few believe electric motors will be able to carry commercial aircraft across the Atlantic anytime soon.
The reality of technological limitations was also raised with regards to the spate of newly announced refinery conversions. Longtime biorefiners noted that switching plant operations from petroleum to renewable diesel isn't nearly as simple as flipping a switch; there's a high degree of technological investment and technical expertise required.
Overall, biodiesel and renewable diesel industry stakeholders greeted the positive attention these low-carbon liquid fuels are now receiving as yet another sign that demand for these products will continue to grow in the years ahead. As to whether or not today's competitors will be tomorrow's partners, that only the market can decide.
---