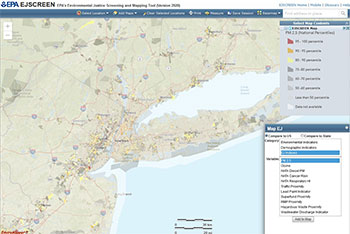 Screenshot of the EPA's
Environmental Justice Screening and Mapping Tool
Last month, the National Biodiesel Board presented the Virtual National Biodiesel Conference & Expo, the first ever online version of the organization's annual event. Energy.ink was in attendance for the event, and is presenting our "RISE Recap" series as general commentary based on our independent observations. The views expressed here do not necessarily represent those of the Virtual National Biodiesel Conference & Expo participants, sponsors or organizers.
Environmental justice was a topic addressed during several sessions at the Virtual National Biodiesel Conference & Expo. While the concept has been around for decades, the environmental justice movement has grown in strength in recent years fueled in part by the rise of other social justice movements such as Black Lives Matter.
The U.S. Environmental Protection Agency defines environmental justice as "the fair treatment and meaningful involvement of all people regardless of race, color, national origin, or income with respect to the development, implementation and enforcement of environmental laws, regulations and policies." Indeed, the EPA maintains an Office of Environmental Justice.
New York State's Climate Leadership and Community Protection Act (CLCPA) offers a prime example of how environmental justice concerns may be integrated into climate legislation. The Climate Act calls for disadvantaged communities to receive at least 35 percent of the benefits from the state's spending on clean energy and energy efficiency programs and projects or investments in housing, workforce development, pollution reduction, low-income energy assistance, energy, transportation and economic development.
How do biofuels figure into the environmental justice movement? Several participants in the Virtual National Biodiesel Conference & Expo argued that biodiesel and renewable diesel's properties as drop-in fuels position them to provide disadvantaged communities with the most immediate and cost-effective emission reductions.
Densely populated urban communities that bear the brunt of air pollution are also the least financially equipped to pay for new electric vehicles and heat pumps. The longer they have to wait for their air quality to improve, the more people in these communities will suffer from respiratory conditions such as asthma and die from diseases like lung cancer. While electrification is still a long way off for disadvantaged communities, biodiesel, renewable diesel and Bioheat® fuel can provide these population centers with immediate environmental and public health benefits.
The success of this argument may very well hinge on whether biofuels can find champions in the environmental justice community itself.
---