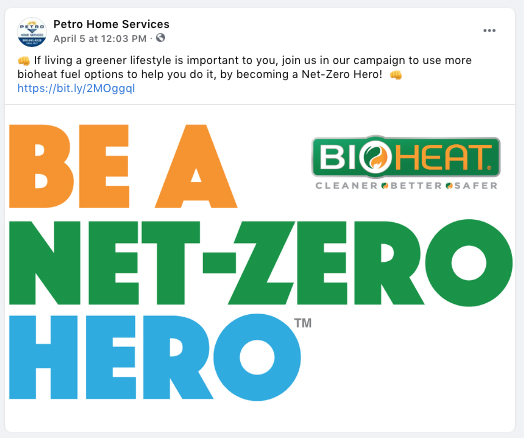 The "I'm A Net-Zero Hero™" marketing campaign has hit some important milestones in recent months, racking up millions of online impressions along with the public endorsements of numerous heating fuel suppliers. The campaign, managed by integrated marketing communications firm PriMedia and sponsored by the New York State Energy Coalition, aims to educate consumers about the environmental, economic and energy security benefits of renewable liquid heating fuels such as biodiesel-blended Bioheat® fuel.
Where earlier phases of the campaign also included bus billboards and radio advertising (see "NYSEC & NORA Launch Net-Zero Hero™ Campaign" from energy.ink Issue 1), the current phase is centered around social media marketing with digital advertising across Google Search, the Google Display Ad Network, Facebook and beyond.
The campaign's Google Display and programmatic advertising campaign both target homeowners 25 and older in the New York metro area (New York City, Long Island and Westchester County), using AI to determine the most cost-effective placements. While Google Display ads span the search giant's web properties from Google to YouTube, programmatic ads may appear on any website with ad space, as well as apps, games and streaming platforms on all mobile devices.
According to recent metrics, the campaign has generated:
Over 1.0 million total impressions on Facebook
Over 2.1 million impressions in Google Display advertising
Over 2.4 million impressions via programmatic advertising
In addition to these promising results, the campaign has received a series of endorsements from companies that serve customers in the New York metro area. Businesses that have adopted the "I'm a Net-Zero Hero™ slogan include Frank Bros., Nuzzi Fuel, Olympia Fuel, Petro Home Services, Skaggs-Walsh, W.C. Esp, Windsor Fuel, and perhaps the longest running heating fuel and service provider in the region, Schildwachter.
"We are excited that so many renewable liquid heating fuel suppliers have embraced the Net-Zero Hero campaign, and we see the brand continuing to gain traction even after the winter months," says PriMedia President Richard Rutigliano. The marketing campaign has run continuously since October 2020. "Heating, biofuel, transportation and agriculture industry stakeholders from across the U.S. are welcome to participate," Rutigliano adds.
---