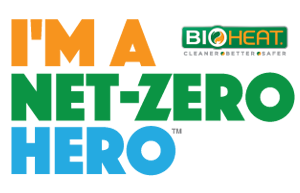 On October 26, the New York State Energy Coalition (NYSEC) and National Oilheat Research Alliance (NORA) launched a new messaging campaign, declaring "I'm a Net-Zero Hero™" throughout the five boroughs of New York City and Long Island's Nassau and Suffolk counties.
The multi-channel campaign features an ethnically diverse cast of characters, each describing themselves as "a Net-Zero Hero™" because they use biodiesel-blended Bioheat® fuel to reduce their carbon footprint. This messaging reinforces the liquid heating fuel industry's commitment to reaching net-zero by 2050 as well as Bioheat® fuel's role as an immediate solution that provides significant carbon reductions "right here, right now."
"Net-Zero Hero™" was developed and executed by New York-based marketing agency PriMedia and is slated to run through winter 2020-2021 onward. The outreach strategy includes:
Bus billboards running on the MTA, Nassau Inter-County Express and Suffolk County Transit lines from October 26 to December 8, delivering approximately 27 million impressions from the Bronx to Montauk Point;

A readily shareable social media campaign featuring @NetZeroHero accounts promoting the #NetZeroHero hashtag across Facebook, Instagram, Twitter and LinkedIn;

Radio advertisements airing from October 26 to November 16 on WCBS-AM, WINS-AM, WALK-FM, WBLI-FM, WKJY-FM, and WLNG-FM, as well as the Long Island Traffic Network and Total Traffic Network;

Digital display and search advertising delivering approximately 10 million impressions via programmatic/real-time bidding (RTB) ads, retargeted programmatic/RTB ads, and social media ads, as well as Google display and search advertising; and

TodaysBioheat.com, a consumer-facing website sharing succinct information and positive talking points on Bioheat® fuel and its role in the net-zero movement.
NYSEC has positioned itself as "the voice of the Bioheat® industry" in New York City, Long Island, and Westchester, NY, representing full-service fuel dealers and associated trade workers throughout the downstate region. This is the single largest renewable liquid heating market in the U.S., with over one million homes already successfully using a minimum B5 (5% biodiesel) blend of Bioheat® fuel. For more information, contact NYSEC Chief Executive Officer Rocco Lacertosa at 212-695-1380 ext. 201 or rlacertosa@nysecnow.org.
---