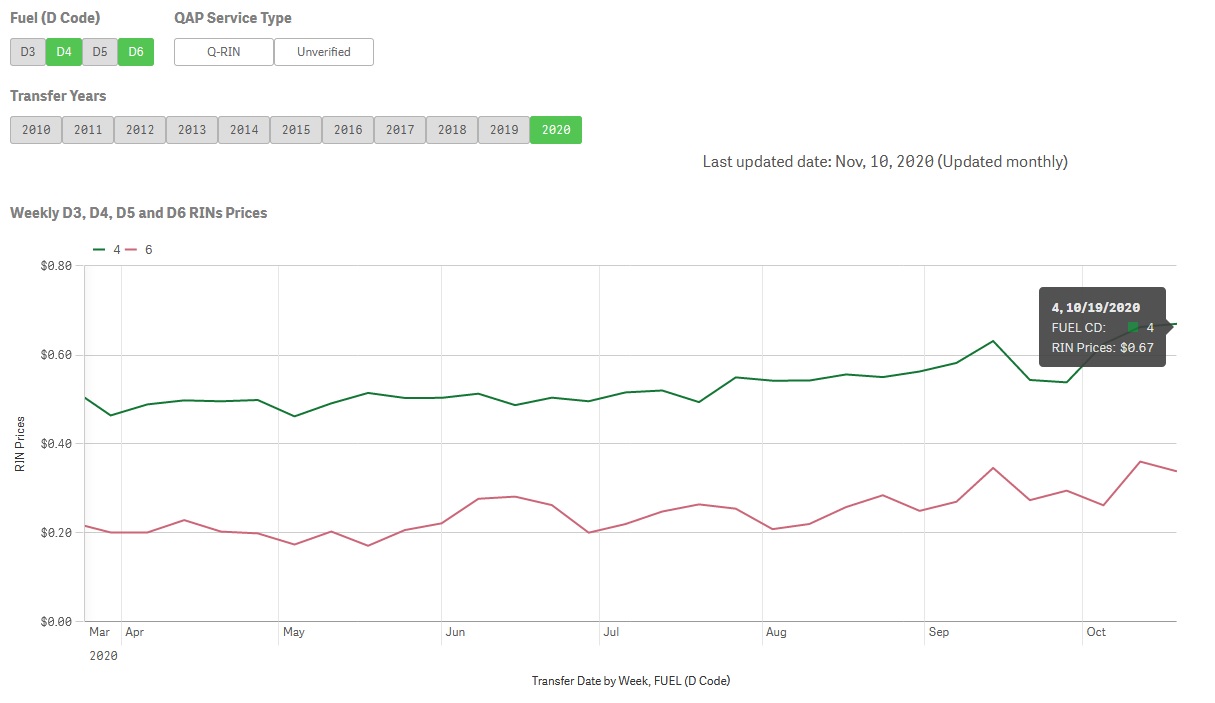 D4 RIN prices for biomass-based diesel have been steadily climbing throughout 2020
[Click here for full image]
Volatility is a given in the energy sector, and yet 2020 has been a year of truly unprecedented swings in prices and production. Neither fossil fuels nor renewables went unaffected by the COVID-19 outbreak and subsequent economic downturn. However, at least one segment has remained relatively steady: U.S. biodiesel.
According to the U.S. Energy Information Administration, biodiesel production has seen considerably smaller reductions compared with other transportation fuels, like gasoline and diesel. From March to May, during the heart of the COVID-19 lockdown, while businesses were shuttered across the country, U.S. biodiesel production averaged 114,000 barrels per day (b/d), down only 2,000 b/d from the same time last year.
Over this period, biodiesel producer margins were just one cent lower than their average from March to May of 2019 and only one cent higher than their five-year average. Talk about steady! While U.S. distillate fuel inventories were 27 percent above the five-year average in May, biodiesel inventories were almost equal to their five-year average.
Of course, anyone in the biofuel industry will readily admit that the Renewable Fuel Standard plays a major role in supporting production, and few would argue that this support was critical to steadying biodiesel supply and demand in 2020. That being said, biodiesel production levels and producer margins aren't the only positive economic indicators for biofuel industry stakeholders to consider.
Throughout 2020, RIN prices have been steadily climbing, perhaps signaling a strengthening market for biofuels. D4 RIN prices for biomass-based diesel rose from $.48 on January 6, 2020 to $.67 on October 19, 2020. If that sounds like a lot of growth over a short period, it's next to nothing compared with the performance of the "baseline" D6 RIN credit for ethanol. On January 6, D6 RINs traded at just six cents, according to the Environmental Protection Agency. As of October 19, the price was up to $.34, more than five times its going rate at the top of the year.
Much of this growth can be attributed to policy decisions — namely, the EPA's determination to reject dozens of small refinery exemption petitions. Nevertheless, biodiesel's resilience has provided a rare bright spot for the U.S. energy economy in 2020 — something that policymakers and business owners would be wise to consider as they look ahead to 2021 and hopefully, the end of the COVID-19 pandemic.
---