The wealth of information available to today's energy professionals can seem overwhelming at times. With so much coming at you at once, where should you direct your attention? Each issue, energy.ink's Data Dive features one informational report, study or survey worthy of closer inspection.
---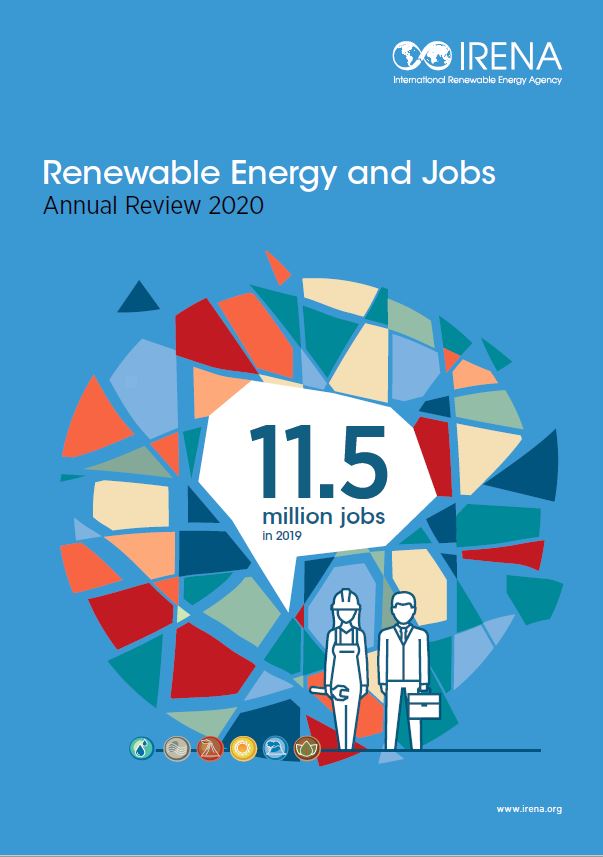 Click here to download
IRENA's Renewable Energy and Jobs – Annual Review 2020
.
In September, the International Renewable Energy Agency (IRENA) released its yearly jobs report, Renewable Energy and Jobs – Annual Review 2020, providing worldwide employment statistics for 2019.
According to IRENA, "Renewables accounted for an estimated 11.5 million jobs worldwide in 2019, up from 11 million the previous year," meaning the global renewable energy job market grew by 500,000 jobs or 4.5 percent year-over-year from 2018 to 2019.
The IRENA report breaks these employment numbers down by both country and energy technology. Liquid biofuels, which includes both ethanol and biodiesel, accounted for 2.5 million jobs worldwide in 2019. Growth in this sector was driven primarily by a 13 percent expansion in international biodiesel production.
Although IRENA has U.S. biodiesel employment estimates falling to 67,300 jobs in 2019 (down from 72,300 in 2018), total renewable energy jobs in the U.S. were also down, from 855,000 in 2018 to 756,000 in 2019. The U.S. is now the world's fourth largest renewable energy employer (behind China, Brazil and India) and third largest liquid biofuels employer (behind Brazil and Indonesia).
Nevertheless, the U.S. remains the world's leading liquid biofuels and biodiesel producer. Though biofuel production and jobs are on the rise in Indonesia, much of that country's product comes from palm oil feedstock, which is not considered "renewable" under the U.S. Renewable Fuel Standard.
Considering the worldwide economic impact of the coronavirus, calls for a "green recovery," and oil companies' ongoing transition to renewable fuels, it will be interesting to see how next year's report on 2020 employment shapes up.
---