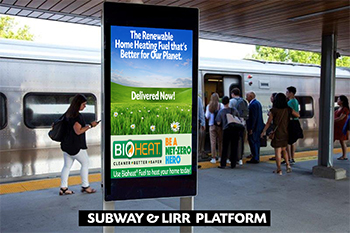 The New York State Energy Coalition (NYSEC) announced that the Net-Zero Hero™ campaign will soon begin running digital ads and printed billboards across dozens of New York City Subway and Long Island Rail Road platforms. High-traffic stations slated to run these ads include Penn Station, Barclay's Center, Yankee Stadium and Jamaica Station, among others.
This latest phase of the ongoing Net-Zero Hero™ campaign highlights biodiesel-blended Bioheat® fuel's path to a net-zero carbon future, as "The Renewable Home Heating Fuel" that is "Delivered Now!" Picking up where prior phases left off, the marketing campaign will also include digital advertising on major New York news websites like NYDailyNews.com, NYPost.com and Newsday.com, as well as exterior signs on buses traveling throughout the downstate region.
"New York Bioheat® fuel companies and their customers are Net-Zero Heroes™. New Yorkers are already on a path to net-zero carbon and may not even realize it," said Rocco Lacertosa, NYSEC president. "We are proud to show the community that we are part of the solution to climate change, and able to lower carbon emissions right now."
Stretching over eight months, the marketing campaign is developed and executed by Long Island-based marketing agency PriMedia and underwritten by NYSEC with support from the National Oilheat Research Alliance. More than 70 million impressions are expected between September 2021 and April 2022.
Although Net-Zero Hero™ does not include legislative advocacy, it would appear that the campaign is helping to spread awareness about Bioheat® fuel among policymakers and their constituents across the New York metro area.
New York's Bioheat® fuel industry celebrated a major policy victory this year, as the state legislature unanimously passed a law requiring all heating oil sold in the state to contain 5% biodiesel (B5) by July 1, 2022, 10% by July 1, 2025 and 20% by July 1, 2030. As reported on TodaysBioheat.com — the online knowledge base for the Net-Zero Hero™ campaign — the new law replaces existing blending requirements that were already in place for New York City and Long Island and calls for more biofuel sooner, across the whole state.
---