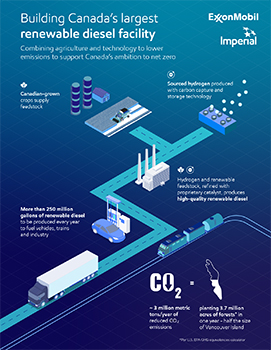 Is "big oil" eyeing a transition to "big bio?"
Nobody is going quite that far, especially not now, with reports surfacing that the Environmental Protection Agency (EPA) will decrease refiners' Renewable Volume Obligations for 2021 and 2022, and retroactively lower them for 2020. (See "'Back on Track' or Out of Whack: What's Happening with the RFS?" from this issue.) However, despite any back-pedaling and foot-dragging that may be occurring in Washington, oil companies do continue to talk the talk on biofuels.
Earlier this year, energy.ink ran a story on major oil refiners pivoting to renewable diesel. Now, Reuters reports that two more oil majors, Exxon Mobil and Chevron are seeking inexpensive inroads to produce renewable diesel, sustainable aviation fuel and renewable gasoline. According to Reuters' sources, Exxon wants to produce 40,000 barrels per day of low-emissions fuels by 2025.
"We see the potential to leverage our existing facility footprint, proprietary catalyst technology and decades of experience in processing challenging feed streams to develop attractive low-emission fuels projects with competitive returns," said an Exxon spokesperson in an email.
How much of this is just talk, and how much is actually in the works? Exxon and Chevron did both follow the Reuters article with corporate announcements related to their respective biofuel activities (see Exxon's news on its Canadian renewable diesel plant, and Chevron's piece about feedstock technology). But for oil companies that have caught flack from shareholders about the threats of climate change and falling behind in the energy transition, the appeal of a story on those companies positioning themselves to produce lower-carbon liquid fuels is obvious.
Exxon and Chevron definitely fit the bill. Earlier this year, both companies experienced shareholder rebellions, with Exxon losing two board seats to hedge fund activists and Chevron being forced to take up an emission-reductions plan despite objections from the company's board.
Reportedly, Exxon has requested that ASTM International form a task force on the viability of co-processing up to 50% of certain feedstocks to make sustainable aviation fuel (SAF). Chevron is also looking at co-processing, with an eye toward a yet-to-be commercialized renewable gasoline product that the company is hoping to get approved by the EPA and California Air Resources Board.
Both strategies seem aimed at addressing economic and regulatory holdups associated with outright conversions of oil refineries to biofuel plants. As previously reported by energy.ink, longtime biorefiners have noted that switching plant operations isn't nearly as simple as flipping a switch; there's a high degree of technological investment and technical expertise required.
On an earnings call held last month, Chevron Chief Finance Officer Pierre Barber painted quite a different picture with regards to his company's vision for utilizing existing fluid catalytic crackers to produce renewable gasoline. "It's literally just a tank and some pipes," he said.
The company aims to begin co-processing biofuel feedstocks using this method by the end of the year. If Chevron is able to get regulatory approval from EPA anywhere near as quickly, it would be a far cry from the current state of affairs surrounding the Renewable Fuel Standard, and perhaps, a sign that the administration is deciding to step on the gas.
---