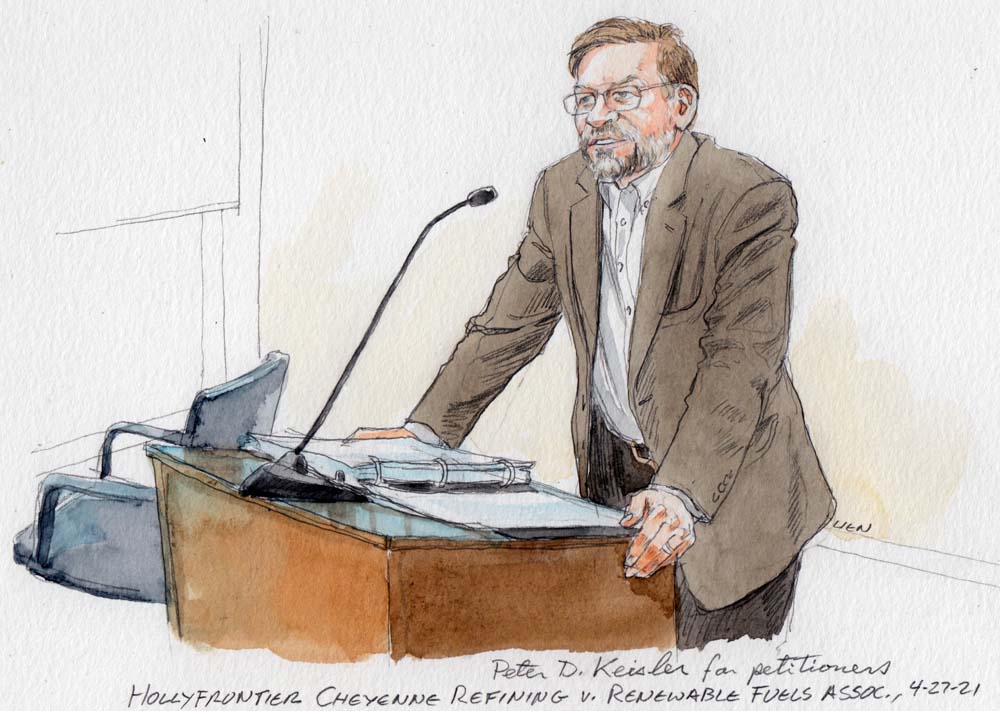 Peter Keisler argued for HollyFrontier Refining; sketch by Art Lien,
SCOTUSblog
Even after a Supreme Court ruling, the fight over the future of the Renewable Fuel Standard (RFS) and its small refinery exemption (SRE) provisions is far from finished.
On June 25, in the case of HollyFrontier Cheyenne Refining, LLC v. Renewable Fuels Association, the court ruled 6-3 in favor of the refining company.
As previously reported, the case was closely watched in the biofuels and petroleum sectors as it centered around whether companies that had been previously granted SREs were exempt from meeting the RFS program's requirements temporarily or in perpetuity (see "Supreme Court Hears Case on Renewable Fuel Standard" from issue 6).
The Supreme Court ruling overturns part of a January 2020 Tenth Circuit Court of Appeals decision that the United States Environmental Protection Agency (EPA) had exceeded its authority by automatically extending waivers to refiners like HollyFrontier that hadn't secured SREs continuously.
The Renewable Fuels Association (RFA) and its allies in the biofuels space had argued that a refiner needed to be granted SREs year after year in order to qualify for the exemption. HollyFrontier and its petroleum industry allies argued that an exemption could be extended at any time, even years after it lapsed.
Notably, the Supreme Court ruling applies only to this part of the debate over SREs and only to this one aspect of the Tenth Circuit decision. In addition to the aforementioned argument over "temporary vs. perpetual" exemptions, the Tenth Circuit ruling requires EPA, in reviewing SRE applications, to consider only whether the RFS causes a refiner "disproportionate economic harm." The Supreme Court decision leaves this aspect of the lower court's ruling in place.
The RFA was quick to point this out in a statement issued after the Supreme Court trial. The association also pointed out that the Tenth Circuit ruling still requires EPA to consider its own evidence that refineries generally end up recouping or recovering the costs of RFS compliance. "Despite today's Supreme Court decision, EPA must still resolve those other aspects of the Tenth Circuit ruling," the association wrote.
Biofuel industry stakeholders already understood that the Supreme Court ruling would not affect these aspects of the Tenth Circuit case one way or another. So, in a sense, there was going to be a "bright side" no matter what ruling came down. However, an additional and possibly unexpected bit of good news came from the fact that conservative Justice Amy Coney Barrett joined her liberal colleagues Sonia Sotomayer and Elena Kagan in dissenting the Supreme Court's decision. A Trump appointee, Barrett is the daughter of Michael Coney, a former Shell Oil Company attorney and American Petroleum Institute chairman.
On the other hand, Trump's other appointees — Neil Gorsuch and Brett Kavanaugh — both sided with the majority. (Curiously, the court's opinion was divided along gender lines.)
The Trump-era EPA had granted an unusually high number of SREs, including extending waivers to companies whose status as "small" refiners was perhaps questionable at best, which led to much litigation. Based on Biden's comments during his presidential campaign, and other positive signals, biofuel industry stakeholders expect the current EPA regime to take a more evenhanded approach when it comes to SREs.
RFA noted that since February 2021, the EPA had reversed its position on the Tenth Circuit decision (siding with RFA rather than the refiners), revoked several SREs that had been granted the day before President Biden's inauguration, and announced that it would cooperate with a federal investigation into the past administration's handling of SREs.
Nevertheless, industry groups representing producers of biodiesel, renewable diesel and other advanced biofuels were dismayed and disappointed by the Supreme Court's decision.
"The Supreme Court decision is dismaying because it leaves uncertainty about when EPA may offer exemptions to small refineries," said National Biodiesel Board Vice President for Federal Affairs Kurt Kovarik. "These exemptions harm biodiesel and renewable diesel producers when they reduce demand for advanced biofuels. EPA has provided multiple ways for refiners to meet the Clean Air Act's RFS requirements, including an outsized bank of reserve RIN credits. The agency must issue the 2021 RFS rules as soon as possible and ensure that RFS volumes it sets are met, with full accounting for any small refinery exemptions it plans to grant."
"We are greatly disappointed by the Supreme Court's ruling to overturn the 10th Circuit decision with regard to small refinery exemptions," said Advanced Biofuels Association President Michael McAdams. "Frankly, the Court got this one wrong. We do not expect, however, that this decision will impact the current Administration's view on using SREs moving forward."
Let that be the last word … at least for now.
---