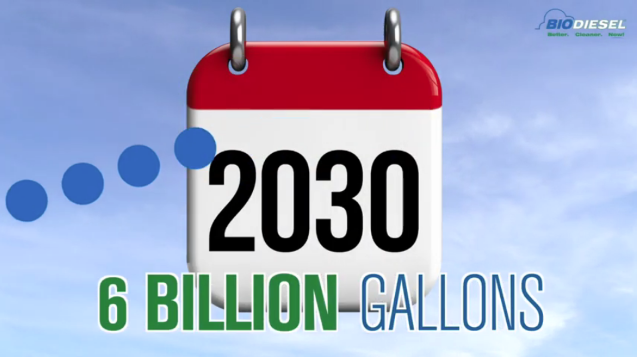 The first in a series of new video ads highlighting the environmental and economic benefits of biodiesel;
click to watch
The National Biodiesel Board's (NBB) "Better. Cleaner. Now!" campaign has a new look and feel. This month, NBB launched a new, updated series of video advertisements geared toward educating a variety of audiences about the immediate environmental and economic benefits of biodiesel and renewable diesel.
The new ads — which debuted on NBB's Twitter account, @Biodiesel_Media, YouTube homepage, and the BetterCleanerNow.com website in July — take the next step in the association's "Better. Cleaner. Now!" theme. Using verified data in a high-impact, visual format, each ad answers the question, "Why do we say biodiesel is better, cleaner, now?" The ads were developed by NBB in coordination with New York-based marketing and communications firm PriMedia, Inc.
"Biodiesel and renewable diesel are better, cleaner, low-carbon fuels that are available today to help communities seeking solutions," said Paul Winters, NBB Director of Public Affairs and Federal Communications. "These new ads effectively highlight the data in an easy-to-understand format that demonstrates the environmental benefits these fuels provide."
Data from a well publicized health study conducted by Trinity Consultants was integrated into the ads, which present this and other research-backed information via blends of animated infographics, voice narration and video footage. NBB will host all four ads on its YouTube channel and roll them out across the country through a targeted digital advertising campaign. The association will target the ads to parts of the country with emerging markets for biodiesel and renewable diesel and policies that support expanded use of these advanced biofuels, including the upper Northwest, Northeast, and Midwest.
"In today's media landscape, compelling narratives demand keenly crafted visuals, and PriMedia is excited to help deliver both for NBB and its supporters," said PriMedia President Richard Rutigliano.
The video ads were sponsored by the National Biodiesel Board, the United Soybean Board, state soybean check-off boards, and the U.S. Canola Association and developed with funding from the Nebraska Soybean Board.
---