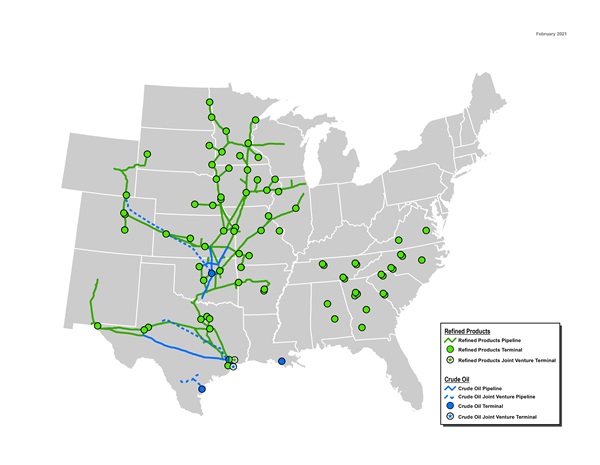 A map of Magellan's pipeline and terminals network
It is common knowledge among liquid fuel stakeholders that biodiesel is available in the U.S. primarily via rail, truck, or barge shipment.
For petroleum marketers, the existence of oil pipelines has long provided a kind of assurance that their products will be available across the country. No matter how many roads, railways, or ports close, there remains a network of pipes transporting petroleum products to terminals in virtually every major market.
The fact that this part of the supply chain has so far by and large excluded biodiesel could be seen as one of the major sticking points preventing wider acceptance and adoption by liquid fuel companies outside of the biofuels space.
That could soon change.
On June 22, Michael Mears, CEO of petroleum distribution company Magellan Midstream Partners, LP, announced that the company was exploring "opportunities to start blending biodiesel into the pipeline system." Mears noted that because biodiesel blends up to B5 meet the same specifications as regular diesel, "we can ship it through our pipes without having to track it, which is very important when you operate a network system."
In addition to increasing revenue, Mears said that transporting biodiesel by pipeline is "much more efficient" than moving it by truck or rail and also "much more environmentally friendly" as it produces fewer emissions.
"That's really the effort we're focused on is to get as much biodiesel as we can to transport it through the pipeline," Mears said. "And we think there's quite a bit of upside for us to do it."
These comments were made during a presentation at the JPMorgan Energy, Power & Renewables Conference. In response, the moderator asked Mears about the timeline for this development and how long it would take for more biodiesel and renewable diesel to enter the market.
Mears answered that there are different timelines for biodiesel and renewable diesel. "For biodiesel, I think it's a much shorter term," he said. "I would expect, we're talking about a one- or two-year kind of timeframe before we start seeing some real developments on transport and biodiesel through the pipe, or even sooner than that."
According to Mears, Magellan Midstream Partners has already tested transporting batches of B5 biodiesel blends through its pipeline system. Magellan operates a network of refined products pipelines running from Texas through much of the U.S. Midwest region, as well as numerous terminals in the Southeast and Mid-Atlantic.
---