On September 30, the Department of Energy's Office of Energy Efficiency & Renewable Energy hosted a webinar titled "Co-Optimization of Fuels & Engines: Past, present, and future — what did we learn and where do we go next?" This was the last in a series of six webinars highlighting key findings, outcomes and research implications of the office's Co-Optimization of Fuels & Engines (Co-Optima) initiative.
For the uninitiated, Co-Optima explores fuel and engine technologies with the goal of unlocking innovations that can simultaneously enhance vehicles' fuel economy and performance while reducing emissions. Co-Optima carries out this work under the banner of "Better Fuels. Better Engines. Sooner." That being said, the initiative readily acknowledges that the actual commercialization of its development work hinges largely on industry stakeholders.
During the webinar, Robert Wagner of Oak Ridge National Laboratory provided an overview of Co-Optima's R&D from the past seven years, as well as the outcomes of this work – the research that has been published and the technological advancements that have been brought closer to market.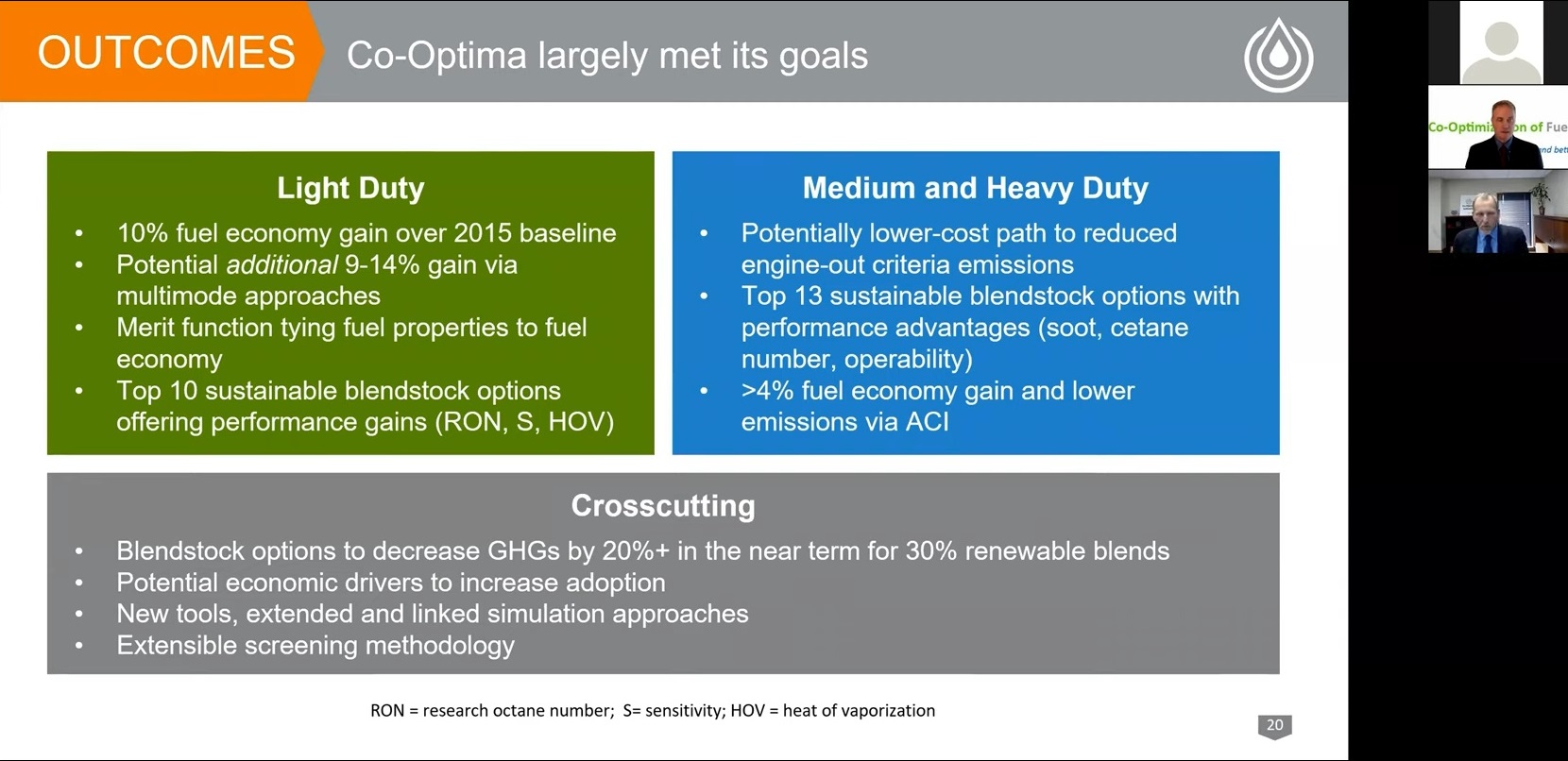 Perhaps most notably, Co-Optima has succeeded in documenting approaches for light duty vehicles to increase their fuel economy by an additional 10% through 2025 (vs. a 2015 baseline). This advancement is on top of an already anticipated 25% improvement, meaning that in 2025, new cars might be able to travel the same distance as they did in 2015 while using 35% less fuel, thanks in part to research conducted by Co-Optima teams.
Additionally, on the biofuels side, Co-Optima has identified the top 13 sustainable blendstock options for medium and heavy duty vehicles (see "DATA DIVE: DOE's Top 13 Blendstocks" from last issue), as well as blendstock options that can achieve 20% emission reductions in the near term at 30% renewable fuel blends. The initiative has also pinpointed potential economic drivers to increase adoption of these renewable fuels and other Co-Optima innovations. This point provided an ideal segue into the second half of the webinar in which Daniel Gaspar of Pacific Northwest National Laboratory discussed what's next for Co-Optima.
Gaspar outlined "three big takeaways" to be considered for future R&D projects:
Biofuels and internal combustion engines will be part of the energy transition, particularly in sectors that are difficult to electrify
More work needs to be done on the testing side to ensure that biofuels can be scaled up for use in all of their intended purposes, i.e., not just on-road transportation but off-road applications, marine shipping and aviation
Focused engine technology development is needed to accommodate net-zero carbon fuels in legacy vehicles
On the last point, Gaspar noted (as did Wagner) that Co-Optima does not actually build engines, but rather provides research and data that can enable manufacturers to bring next-generation engines to market. Though not covered in the webinar (as no specific products were discussed), it is worth mentioning here that technology already does exist to allow trucks to run on high renewable fuel blends, such as B100 biodiesel. Several fleets across the country currently use the Vector System by Optimus Technologies to run on B100, even in cold-climate conditions.
As for the second key takeaway, Gaspar pointed to the DOE's 2016 Billion-Ton Report, which indicated the U.S. can produce 60 billion gallons of biofuels per year from one billion tons of biomass. No doubt, additional investments will be required to develop these resources domestically, but Gaspar noted that the electrification of passenger vehicles will free up ethanol to be used as a blendstock for advanced biofuels. These transitions will require continued collaboration between original engine manufacturers and fuel producers, and the knowledge exchange made possible by Co-Optima figures to remain an integral resource toward that end.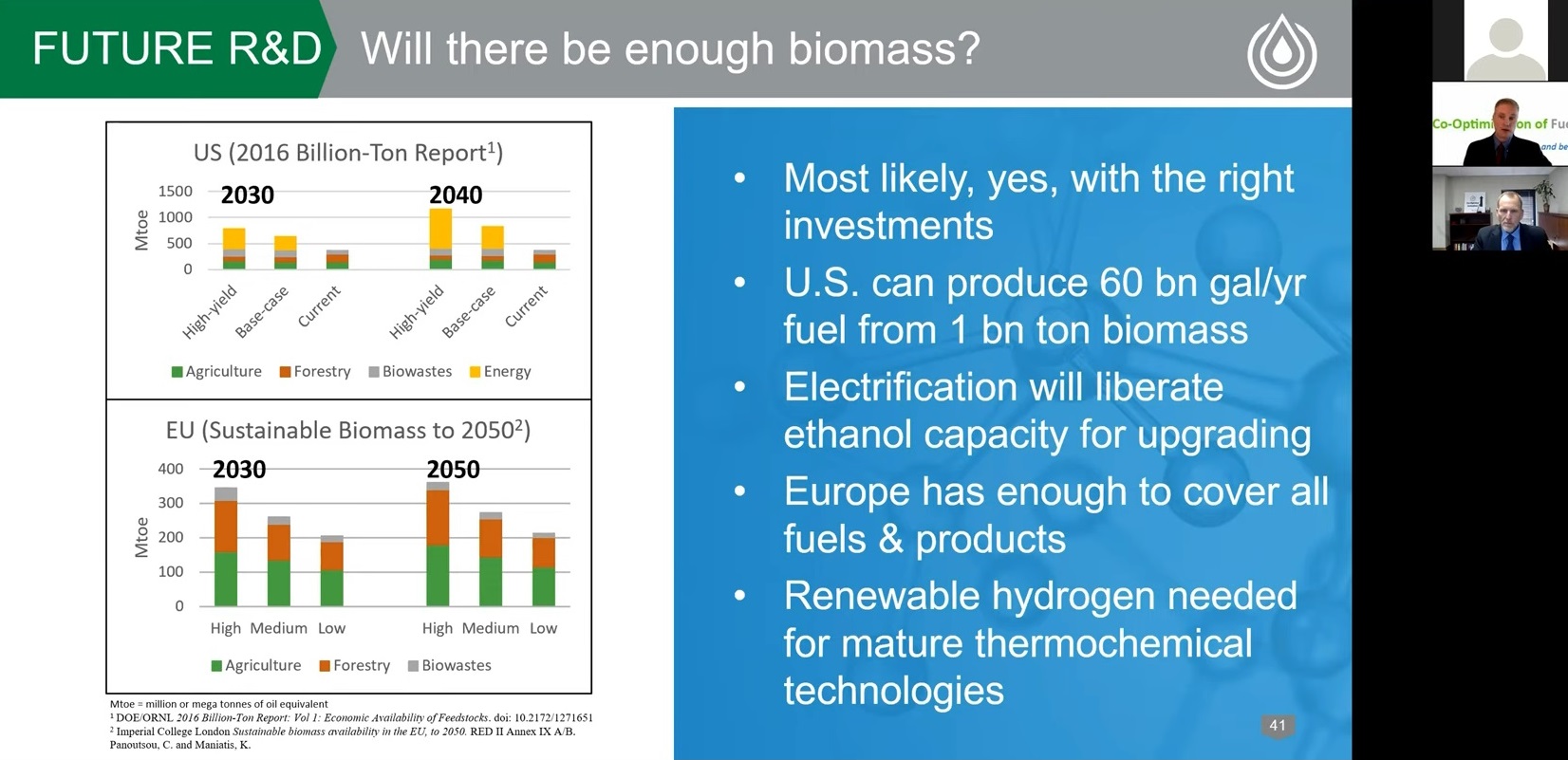 There's a great deal to consider here, and this article merely scratches the surface; for additional insights, view the complete webinar available on the DOE website.
---